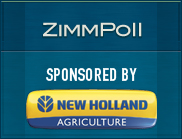 Our latest ZimmPoll asked the question, "How will high path avian flu impact industry?"
The number of outbreaks grows by the day and I am afraid the worst is yet to come. Just yesterday, Iowa announced four more cases. It looks like the majority feel exports will be greatly impacted and many agree that we haven't seen the worst of it.
Here are the poll results:
No major impact – 13%
Big export impact – 38%
Higher prices – 6%
Worse for turkey producers – 13%
Worse yet to come – 25%
Will recover quickly – 5%
Our new ZimmPoll is now live and asks the question, What technology is most responsible for rapid planting progress?
Up until last week, planting progress was running behind normal. But in just one week farmers were able to plant more than one third of the corn acres – including 54% in Iowa alone! What do you think is most responsible for the ability to make such tremendous progress in such a short time?