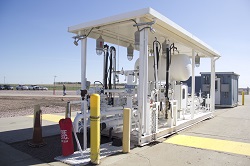 GROWMARK showed off its newest propane terminal in South Dakota. This company news release says the April 28 open house at the Canton terminal attracted about 70 people to the event.
GROWMARK, headquartered in Bloomington, Ill., acquired the Magellan Pipeline Company, L.P. in 2013 and added rail capacity. Facility upgrades were complete and the terminal was operational in January 2015.
"This opportunity made strategic sense for us," said Kevin Carroll, GROWMARK VP Energy & Logistics. "Our retail division, STAR Energy, acquired Siouxland Propane in 2013, expanding our footprint into the South Dakota geography. This terminal will support the expanded footprint and enhance our supply for other areas of our System."
The upgraded GROWMARK terminal provides storage capacity of more than 300,000 gallons and the capability to fill two semi-truck tanks simultaneously, each loading at a rate of approximately 570 gallons per minute. The terminal is adjacent to the BNSF railroad, and GROWMARK has upgraded the facility to allow for six railcars to unload at one time, with the opportunity to expand that to eight cars in the future.