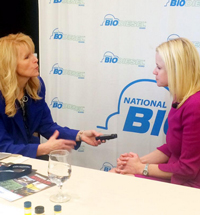 The National Biodiesel Board (NBB) took part in the annual National Association of Farm Broadcasting Washington Watch this week to talk with reporters from around the country about issues important to the industry, number one being get the Renewable Fuel Standard (RFS) back on track.
"We hope that they not only get it back on track but get those volumes out there, they need to be higher," said NBB Vice President of Federal Affairs Anne Steckel, speaking about EPA's plan to release overdue volume obligations under the law by June. "EPA has said they want 2014 volumes to be actual production, so for our industry that would be about 1.75 billion gallons."
Steckel says they hope EPA will add several hundred million gallons to that each year going forward to support industry growth.
In this interview with Agri-Pulse reporter Spencer Chase, Steckel also talks about the status of the biodiesel tax incentive. Interview with Anne Steckel, NBB