Weekly ethanol production numbers, as well as stocks are down. The U.S. Energy Information Administration (EIA) reports ethanol production averaged 921,000 barrels per day (b/d), about 38.68 million gallons daily. That is down 9,000 b/d from the week before. The four-week average for ethanol production stood at 928,000 b/d for an annualized rate of 14.23 billion gallons. Stocks of ethanol were down 2.6 percent from a week earlier at 20.8 million barrels.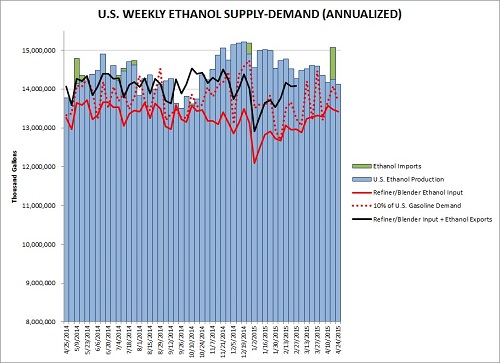 The Renewable Fuels Association added that ethanol production is accounting for a good amount of corn usage in the country.
Ethanol producers were using 13.965 million bushels of corn to produce ethanol and 102,786 metric tons of livestock feed, 91,635 metric tons of which were distillers grains. The rest is comprised of corn gluten feed and corn gluten meal. Additionally, ethanol producers were providing 5.42 million pounds of corn distillers oil daily.