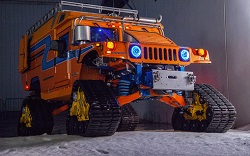 A group planning a drive to the South Pole is choosing biodiesel to get it there. According to this article in Green Car Reports, Zero South's goal is to be the first to reach the South Pole without using any fossil fuels.
"We shall draft a symbol of military defense for the front lines of environmental defense," expedition organizer Nick Baggarly declared.
Each Hummer is equipped with a 3.2-liter six-cylinder turbodiesel engine that will run on biofuel during the expedition.
There's also an electric motor for each axle, retaining the Hummer's four-wheel drive capability.
Electricity is supplied by a 24-kilowatt-hour lithium-ion battery pack, mounted in an insulated battery box to maintain consistent temperature.
The whole trip will cover 1,200 miles, and the group plans to document its journey and produce a 10-episode television miniseries and feature-length film.