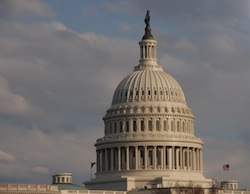 A bipartisan group of senators is calling on the Environmental Protection Agency (EPA) to reverse its current course and strengthen the Renewable Fuel Standard (RFS). Led by U.S. Senators Amy Klobuchar (D-MN), Chuck Grassley (R-IA), Dick Durbin (D-IL), John Thune (R-SD), Al Franken (D-MN), and Mark Kirk (R-IL), the 37 in the group say the EPA's latest proposal would create uncertainty for ethanol and biodiesel producers and undermine job creation.
"The RFS has already proven to be an effective driver of alternative fuels and economic development," the senators wrote. "The biofuels volume requirements for 2014 and beyond have serious implications for our economy and energy security. We encourage you to ensure a final proposal continues to work toward achieving the RFS's long-term economic and renewable energy goals."
The ethanol industry praised the senators for their action.
"It is encouraging to see such broad, bipartisan, and geographically diverse support for the Renewable Fuel Standard," said Renewable Fuels Association president Bob Dinneen. "It's leadership like this that will move America's energy future forward. Farmers, entrepreneurs, and innovators across the country will applaud these 37 visionaries."
"Convincing Senators to sign the RFS to Administrator McCarthy was a key part of our grassroots fly-in last month so we're glad ACE members could play such an instrumental role in securing so many signatures," said American Coalition for Ethanol Executive Vice President Brian Jennings. "We are also grateful for the strong bipartisan support conveyed by Senators that EPA must get the RFS back on track for implementation by reversing course from their ill-advised proposal which would have limited renewable fuel use at ten percent of gasoline consumption."
Tom Buis, CEO of Growth Energy, says the letter is a clear message to the EPA. "In no uncertain terms this strong bipartisan coalition of Senators have indicated that they are closely watching the EPA as they seek to finalize this rule and that any changes which would undercut the congressional intent or role of the RFS will be met with intense scrutiny and strong objection," said Buis.
EPA recently announced it will propose volume requirements by June 1 for 2015 and 2016 and will re-propose volume requirements for 2014 that reflect the volumes of renewable fuel that were actually used in 2014.