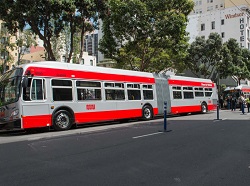 The San Francisco Municipal Transportation Agency (SFMTA) has bought 61 new biodiesel-electric hybrid buses, part of a total buy of 121 alternative fuel transports by SFMTA.
The introduction of the new low-floor biodiesel hybrid and electric trolley busses coincides with this year's celebration of Earth Day. The new hybrids will run on B20: a blend of diesel and biodiesel, which is made from recycled oil and fat. The new trolleys will operate on 100 percent hydro-electric power. All of our electricity is hydropower – supplied from the Hetch Hetchy Reservoir and is carbon neutral. Muni now has one of the most diverse transit fleets in the world and is also the cleanest multimodal fleet in California.
"New 21st century buses are the very cornerstone of San Francisco's Transit-First policy, making sure Muni is reliable, affordable and safe for our riders," said Mayor Edwin M. Lee. "The purchase of a new state-of-the-art fleet of electric trolley and hybrid buses, which reduce or eliminate greenhouse gas emissions, helps San Francisco lead the way to a sustainable future. By offering real solutions to fighting climate change, we can meet the needs of our thriving economy and growing population."
"Both the biodiesel hybrid buses and electric trolleys allow San Franciscans who ride Muni to celebrate Earth Day every day," said SFMTA Director of Transportation Ed Reiskin. "More than half of our vehicles run on clean, Hetch Hetchy electric power; our trolley coaches and light rail vehicles and our cable cars are all powered by electric motors, providing more than 125 million zero-emission passenger trips per day."
Federal grants, along with state and local monies, helped fund the new buses.