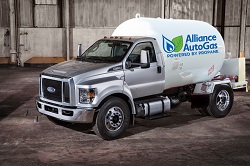 A new conversion to a truck running on propane is showing just how easy and cost saving the fuel can be. Alliance AutoGas showcased the Ford F-650/F-750 tractor cab featuring a new product innovation – the Bi-Fuel AutoGas System – at the recent AutoGas Pavilion at the NPGA Propane Expo in Atlanta.
Westport's Prins VSI system "plug and play" conversion on the 2016 Ford F650/F-750 is precedent setting in that no intake manifold drilling, cutting, or splicing of wiring is required. The Bi Fuel Autogas system conversion of the F-650/F-750 features these critical components:
Costs less than its diesel or dedicated propane counterparts.
Reduces fleet operating costs by as much as 30%.
The new Bobtail conversion comes in at a lower cost than its diesel counterpart.
Offers increased range while reducing fuel costs.
"Best in Class" warranty of five years or 100,000 miles.
This plug-and-play conversion cuts the propane system's installation time by half—about six hours—compared to a typical 12 to 14-hour installation time for any predecessor.