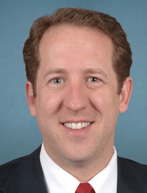 Congressman Adrian Smith (R-NE) has introduced legislation to expand the existing waiver of Environmental Protection Agency (EPA) regulations regarding Reid Vapor Pressure (RVP) of motor vehicle fuel to include 15% ethanol blended gasoline (E15) in addition to E10.
EPA regulations currently curtail retail sales of E15 during the summer months. "Ethanol provides consumers in Nebraska and across America with a competitive, clean, domestically-produced alternative," Smith said. "However, burdensome EPA regulations are restricting consumers' options at the fuel pump.
EPA granted a waiver for E10 in 1990 and Smith's bill would extend this waiver to also include E15.
"Though E10 received a waiver decades ago, the same regulatory relief has not yet been extended to E15," said Smith. "We must pursue an all-of-the-above energy policy, which includes ethanol and other renewable fuels, by reducing red tape and encouraging innovation in the energy marketplace."
"We applaud this effort by Congressman Smith to establish greater consumer choice and to remove a major hurdle preventing consumers the opportunity to purchase higher blends such as E15," said Growth Energy CEO Tom Buis. "We are hopeful that Congressman Smith's legislative efforts are successful in granting this much needed waiver to overcome the single largest regulatory hurdle to ensuring consumers have access to higher blends such as E15."
The legislation is similar to a bill introduced earlier this month in the Senate by Sens. Chuck Grassley (R-IA) and Rand Paul (R-KY).