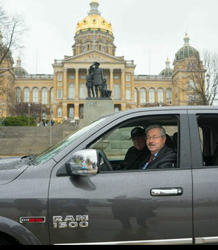 Lawmakers in Iowa got the chance to experience the power of biodiesel for themselves. The Iowa Biodiesel Board (IBB) held its its first ever Ride-and-Drive event at the capitol in Des Moines as part of the group's annual "Biodiesel Day on the Hill" event, whose riders included Governor Terry Branstad and Lieutenant Governor Kim Reynolds.
"As a nation, we should continue to prioritize both a diverse fuel supply and clean, fuel efficient vehicles," said Grant Kimberley, IBB executive director. "With diesel vehicles running on biodiesel blends, you get both."
Biodiesel is an advanced biofuel made from agricultural byproducts and co-products, such as soybean oil.
Vehicles on hand included a diesel Chevy Cruze, the only small domestic diesel car; a Ford F-250 Superduty pickup; a Ram 3.0L EcoDiesel pickup; and a diesel Jeep Grand Cherokee. All ran on biodiesel blends during the event. The new 2015 models are approved for 20 percent biodiesel (B20).
Iowa biodiesel producers and supporters were also able to thank Iowa legislators for their support. Earlier this year, the state raised the fuel tax while providing a partial exemption for diesel blended with at least 11 percent biodiesel (B11).