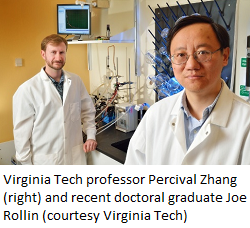 Scientists at Virginia Tech have found a way to get hydrogen from corn husks. This article from Yahoo says the husks and stalks are not only a plentiful feedstock for the potential car fuel, but they're cheap, too.
"We have demonstrated the most important step toward a hydrogen economy — producing distributed and affordable green hydrogen from local biomass resources," said study co-author Percival Zhang, a professor in the Department of Biological Systems Engineering at Virginia Tech.
The study was led by Joe Rollin, a former doctoral student of Zhang's at Virginia Tech. Together they co-founded a start-up company called Cell-free Bioinnovations.
The process builds on previous research using xylose, "the most abundant simple plant pentose sugar, to produce hydrogen yields that previously were attainable only in theory," said the PNAS report.
Other hydrogen fuel production methods rely on highly processed sugars, but the Virginia Tech team used corn husks and stalks, which are known as dirty biomass, to cut costs and make the fuel easier to produce locally.
The findings are published in the Proceedings of the National Academy of Sciences.