Kentucky Senator Rand Paul officially threw his hat in the ring for the Republican presidential nomination Tuesday, just a week after co-sponsoring the Fuel Choice and Deregulation Act of 2015 with Iowa Senator Chuck Grassley. The legislation would allow 15% ethanol blends to be sold year round by requiring EPA to grant a Reid Vapor Pressure (RVP) volatility waiver for E15 in the summer months.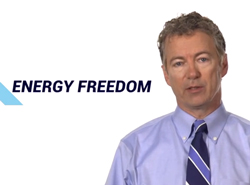 "The EPA's onerous regulation of fuels is artificially limiting options for consumers and producers and preventing the adoption of new fuel options that could benefit our environment, our economy, and our energy security," said Sen. Paul in a press release about the Act. "Through competition and consumer choice, my bill will free fuel producers and automobile manufacturers to innovate and bring new products to market that can lower costs to consumers, increase domestic energy production, and benefit the environment."
The official candidate's new campaign website says nothing specific about biofuels in the Energy section beyond "encouraging energy freedom, new technologies, and discoveries" but does mention support for the Keystone XL pipeline.
Sen. Paul did not participate in the recent Iowa Ag Summit where potential candidates were asked specifically about their stance on the Renewable Fuel Standard (RFS) but an aide last week confirmed that he is opposed to "the government telling consumers or businesses what type of fuel they must use or sell."
"Sen. Paul supports removing regulatory barriers to the use of ethanol and other renewable fuels, which would likely have the effect of growing the use of these environmentally friendly fuels," said the aide quoted in the National Journal.
Ethanol industry leaders have applauded Sen. Paul for his co-sponsorship of the E15 bill, but all say that support of the RFS is what they really want to see in a presidential candidate.