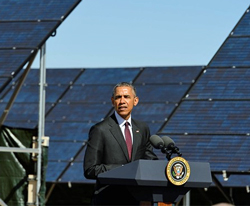 In Utah on Friday, President Obama announced new growth efforts for the solar industry and support for veterans.
At Hill Air Force Base, Obama announced several actions, including a "Solar Ready Vets Program" to be launched by the Department of Energy in partnership with the Department of Defense (DOD), at 10 military bases across the country, including at Hill Air Force Base in Utah, which has already taken leadership by installing solar panels onsite.
The Solar Ready Vets program will train transitioning military service personnel to enter the solar workforce by joining with SunShot's Solar Instructor Training Network and leveraging the DOD's Skillbridge transition authority authorized by Congress in 2012.
In addition, the Department of Veterans Affairs is committing to working with DOE and State Approving Agencies to achieve approval for GI Bill funding for DOE's Solar Ready Vets initiative. And the Department of Labor (DOL), will work with DOD to ensure that transitioning service members are made aware of solar workforce training programs available to them in their last months of military service.