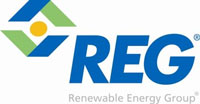 A Geismer, Louisiana renewable hydrocarbon diesel (RHD) refinery owned by Iowa-based Renewable Energy Group (REG) is closed after a fire on April 2 which injured two people, according to the company.
REG reports that the fire was contained within a few hours and the two injured employees were in fair condition. "An assessment and investigation into the cause of the fire and the damage to the facility is ongoing," said a company statement. "The biorefinery will remain shut down until such assessment is complete and repairs can be made."
REG just held a ribbon cutting in November for the facility which produces RHD using a process which converts a wide range of feedstocks, such as animal fat, inedible corn oil, used cooking oil and vegetable oils, into renewable fuel.