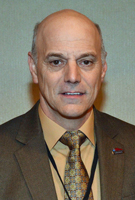 Fuel retailers who have had to fight battles with big oil companies to offer higher ethanol blends were among those joining the American Coalition for Ethanol (ACE) Fly-in on Capitol Hill this week.
Charlie Good has been in the fuel retailing business for 35 years as a convenience store operator and auto mechanic and he started offering higher ethanol blends at his Good and Quick store in Nevada, Iowa about 18 months ago. "And it's just been a big boom for me, it's added new gallons, it's increased my customer base," said Good.
The Renewable Fuel Standard (RFS) was the main topic of ethanol supporter meetings with lawmakers and their staff this week and Good says even those they met with who have actively opposed the RFS are unlikely to vote for repeal. "The three of the five that we met with that were against it came out and said we're not actually going to vote to repeal it…they're just going to remain low key," said Good.
Interview with Charlie Good, ethanol retailer