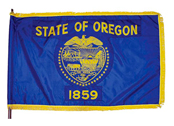 A proposed biomass plant in Oregon is getting closer to getting off the ground, if it can just find a buyer for the energy it produces. This article from The Columbian says the city of La Pine could get a wood-burning power plant.
"It's just been on hold due to market conditions," said Rob Broberg, president of Biogreen Sustainable Energy Co. "And we plan on holding out until we are able to market and sell power."
The company must find an energy buyer to make the planned plant economically viable, said Rick Allen, La Pine city manager.
"They need to find a power company that wants to buy their power," he said. "That's really the issue."
The $75 million, 25-megawatt biomass plant would produce enough electricity to power about 19,000 homes, Broberg said. The plant would burn wood — limbs and other scrap left over after logging, debris from thinning projects and urban waste — to heat water, create steam and turn a turbine.
Biogreen has been trying to build a biomass plant in the forest-surrounded city of La Pine for more than five years.