Solar Impulse 2 has set off on a 35,000-kilometer journey around the world, powered only by solar energy. Schindler, a leading global elevator and escalator provider, is one of the project's four main partners and welcomed the aircraft as it stops over at the Mandalay International Airport in Mandalay, Myanmar.
The Solar Impulse 2 is a single-seater aircraft made of carbon fiber, with a 72 meter wingspan – larger than that of the Boeing 747 – weighting just 2,300 kg. The 17,248 solar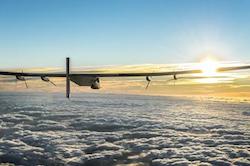 cells built into the wing supply four electric motors (17.5 CV each) with renewable energy. During the day, the solar cells recharge lithium batteries, weighing 633 kg, that allow the aircraft to fly at night and therefore to have virtually unlimited autonomy.
The aircraft took off from Abu Dhabi on March 9, 2015 and will stop at 12 locations. The route includes stops in Muscat, Oman; Ahmedabad and Varanasi, India; Mandalay, Myanmar; and Chongqing and Nanjing, China. After crossing the Pacific Ocean via Hawaii, Solar Impulse 2 will fly across the USA stopping in three locations —Phoenix, a location in the Midwest and New York City at JFK. After crossing the Atlantic, the final legs include a stop-over in Southern Europe or North Africa before arriving back in Abu Dhabi. With the plane traveling at a maximum speed of 90 to 140 km/h, depending on the flying altitude, the journey will take five months to complete, including 25 days of flight time.
Schindler, which has been operating in Myanmar since 1999, is proud to participate in the project. "This is a historic moment and we are delighted to be part of a team that shares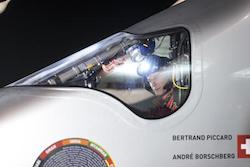 the same pioneering spirit and passion for engineering excellence, with the common objective to move people safely while using less energy," said Jujudhan Jena, Chief Executive of Jardine Schindler Group.
Solar Impulse's founders have welcome Schindler's participation as an important illustration of how forward-looking companies are approaching sustainable development and seeing the industrial potential of using clean technology and renewable energy.
"Our partnership with Solar Impulse exemplifies our longstanding dedication to invest in clean technologies for sustainable mobility," added Jena. "Just like those of the Solar Impulse team, the intensive efforts made by our R&D teams over the years have given birth to ground-breaking solutions that have redefined industry standards."