North Carolina installed the second most new U.S. solar power capacity in 2014 according to the report released this week, "Solar Market Insight 2014 Year in Review". America's 12th state is poised to become the first in the South to exceed 1 gigawatt (GW) of installed solar.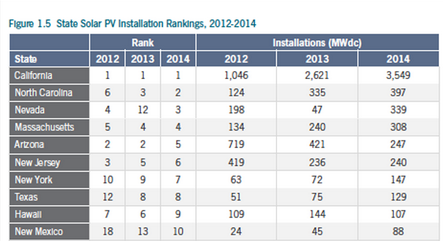 In 2014, North Carolina added 397 megawatts (MW) of solar electric capacity, bringing its total to 953 MW – just 47 MW short of cracking the 1 GW barrier. The report also demonstrated that North Carolina's biggest solar gains came in utility-scale installations. Of the new capacity added, 390 MW were utility scale, 4 MW were residential and 3 MW were commercial. Together, these installations represented a $652 million investment in the state in 2014.
"North Carolina is a case study of how solar works as well on the East Coast as it does on the West Coast – with the Tar Heel State now having more installed solar capacity than Oregon and Washington combined," said Rhone Resch, president and CEO of the Solar Energy Industries Association (SEIA). "To put the state's remarkable progress in some context, the 953 MW installed today in North Carolina is more than our entire country had installed by 2007. That's an amazing achievement."
North Carolina's notable solar projects include:
Apple's Data Center Solar Farm in Maiden was developed by SunPower. This photovoltaic (PV) project has the capacity to generate 20 MW of electricity — enough to power more than 2,200 North Carolina homes.
At 20 MW, Capital Partners Solar Project is among the largest solar installations in North Carolina. Recently completed by SunEnergy, this PV project has enough electric capacity to power nearly 2,000 homes.
Several large retailers in North Carolina have also gone solar, including Verizon, SAS and IKEA.
Apple has installed one of the largest corporate PV systems in the state with 20 MW of solar capacity at its location in Maiden.
The residential market began to show some promise in 2014 with installed system prices dropping again – and down a total of 49 percent since 2010. But the big driver in the state's solar market has been in utility-scale installations. A recent study by Duke University found that North Carolina now has 150 utility-scale solar facilities, with another 377 facilities planned. "Our assessment of the North Carolina utility-scale solar value chain finds that at least $2 billion in direct investment has been made in the state, affecting at least 4,307 direct jobs in 450 companies," the report stated.