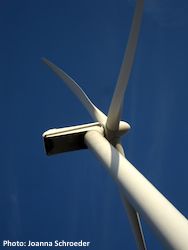 The Department of Energy today released a new analysis of America's wind energy industry – Wind Vision: A New Era for Wind Power in the United States.
According to the report, the wind energy industry could support more than 600,000 jobs by 2050, including engineers, construction workers, truck drivers, factory workers, utility operators, maintenance technicians, electricians and other supporting services. Currently, the United States has utility-scale wind plants installed in 39 states. The report shows that with continuing technological advancements, cost reductions, and siting and transmission development, the nation can deploy wind power to economically provide 35% of our nation's electricity and supply renewable power in all 50 states by 2050.
White House Deputy Assistant to the President for Energy and Climate Change Dan Utech and Under Secretary for Science and Energy Lynn Orr hosted a conference call this morning to highlight the new report.
Administration call on wind energy report