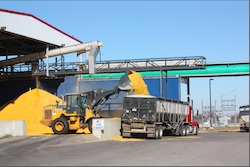 Ethanol exports from the United States dropped in January and while distillers grains (DDGS) exports were also lower compared to December, the Chinese market for DDGS is showing recovery.
According to Renewable Fuels Association (RFA) vice president Geoff Cooper, U.S. ethanol producers exported 68.7 million gallons of ethanol in January, down 9% from December 2014 and the lowest since September 2014. However, "imports barely registered in January, with only 28,670 gallons coming in from Canada."
On the DDGS side, exports totaled 708,861 metric tons in January, down 3% from December and still down 22% compared to a year ago. But the good news is that China was the top market for DDGS exports, receiving 24% of the total. Recovery of the Chinese market continues, as January exports to China were 35% above December levels and up dramatically from near zero in November.