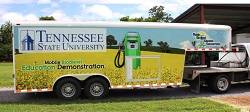 Educating the public about biodiesel hits the road starting this week… and not just in the fuel tanks we know. The Tennessee State University Cooperative Extension program's Mobile Biodiesel Education Demonstration (MBED) trailer is making stops across the Volunteer State this month, starting at the Fayette County Fire Training Room in Somerville tonight at 6.
According to Dr. Jason de Koff, assistant professor of Agronomy and Soil Sciences, the production of biodiesel fuel from vegetable oil is a viable process that can replace traditional fuel used in existing diesel engines.
"The process can go a long way toward helping ease the financial burden of fuel costs," said de Koff, who is leading the tour. "It is possible [farmers] could become totally self-sufficient in diesel fuel use."
Accompanying Dr. de Koff to provide specific expertise will be Mobile Biodiesel team members Chris Robbins, Extension associate for farm operations; Dr. Prabodh Illukpitiya, assistant professor of Natural Resource and Energy Economics; and Alvin Wade, associate Extension specialist for Community Resources and Economic Development.
The workshops will include discussions on the following topics:
Introduction to Biodiesel Production
Feedstocks for Biodiesel Production
Biodiesel Production Demonstration
Economics of Small-Scale Biodiesel Production
Federal Assistance Programs for Biodiesel Production
­More dates and locations are available here.