The El Cielo Winery in Baja, California is soaking up the sun with the addition of a 53.9 kW solar system. The rooftop and carport system is comprised of 220 Kyocera 245 watt solar modules and is expected to offset nearly 75 percent of the winery's energy needs, saving the between $1,000-$1,200 per month.
"The use of solar energy must be a priority not only for wineries, but also for all businesses," said Gustavo Ortega, general director of El Cielo. "We chose Kyocera panels because of their longstanding, proven reliability and local production right here in Baja. In this way, we keep more jobs here in our own state."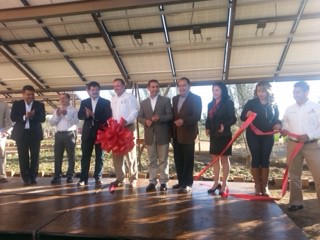 The winery and its associated restaurant have also adopted energy efficient LED lighting with automated motion sensors, thermal materials, solar tubes and reclaimed water for landscaping as further examples of how environmental impact can be minimized. Ortega said that his goal is the bring best practices to the wind industry in the U.S. and Mexico.
Solar was a crucial element for El Cielo according to Ortega. Just one year into operations, the winery is one of the region's most popular, with a photovoltaic system that includes both rooftop panels and a carport to shade vehicles while simultaneously producing renewable energy from the region's abundant sunshine.
"El Cielo represents best practices in the wine tourism industry, proving that being environmentally friendly can enhance a winery's popularity and profitability," added Cecilia Aguillon, director of marketing for Kyocera Solar Inc. "Kyocera enjoys a special relationship with Baja California, having manufactured solar modules in Tijuana for more than a decade. We're honored to support this important project in the region."