The Deepwater Wind Block Island project will be proceeding. Alstom, the company that will provide five Haliade 150 6MW offshore wind turbines, said they have received formal notice to proceed from the developers of the project with the announcement that the project is now fully financed. The Haliade operates without any gearbox (using direct-drive), due to its permanent-magnet generator.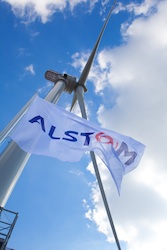 "This is a major milestone and the confirmation that this project, the first commercial offshore project in the United States for Alstom, will now materialize, " said Yves Rannou, senior vice president wind for Alstom.
Alstom will supply, install and commission the five Haliade 150 turbines for the project and provide 15 years of operations and maintenance support. The turbines, capable of producing approximately 125,000 MWh of electricity annually, will provide about 90 percent of Block Island's power needs.
Anders Soe-Jensen, vice president of Alstom Wind Offshore added, "Securing final financing for this ambitious project is an exceptional achievement for Deepwater Wind. We believe this project will highlight both the commercial and technological viability of offshore wind in the US and we are proud to be part of the team making it happen. This is the start of a new chapter in sustainable energy for the US."
Wind turbine, foundation and electrical interface engineering is advancing on schedule to meet Deepwater Wind's project specifications, including installation of the five foundations during summer 2015. Located about three miles off the coast of Block Island, Rhode Island, the Block Island Wind Farm is scheduled for commercial service in the fourth quarter of 2016.