NTEA Work & Truck Show took place this week in Indianapolis, Indiana and several propane announcements were made during the show including a new bi-fuel autogas conversion system. The news was delivered by BSI President Ed Hoffman, and said the Ford Transit 3.7L engine conversion to propane autogas was under development and expected to be submitted to the Environmental Protection Agency (EPA) for certification this spring.
Hoffman said the bi-fuel s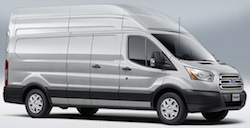 ystem conversion on the Transit requires no intake manifold drilling, cutting, or splicing of wiring, and the system provides OEM quality components and engineering with ½ the install time. He also noted with extended range capabilities the bi-fuel system insures a fleet gets where it needs to go.Twenty one gallons of propane will be added to the "tank" to be used in conjunction with traditional fuel. The Transit will be the first "plug & play" conversion to be installed by the Alliance AutoGas.
Replacing the Ford E-Series, the Ford Transit vans and wagons are in several configurations the wagon offers higher fuel economy ratings. The 3.7L Ti-VCT V6 surpasses the E-Series standard 4.6L V8 gas engine in EPA estimated highway mpg by 19 percent.