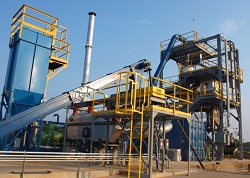 A sustainable waste-to-energy facility has been approved for construction in Tennessee. PHG Energy (PHGE) says its deal with city of Lebanon, Tennessee, will build a downdraft gasification plant that will cleanly convert up to 64 tons per day of blended waste wood, scrap tires and sewer sludge into a fuel gas that will generate up to 300Kw of electricity. The power generated from this plant will provide the plant's internal power needs as well as contribute electricity to the wastewater treatment plant where it will be located.
"This is not incineration or burning," Lebanon Mayor Philip Craighead pointed out. "There is no smoke or odor. The feedstock material is broken down at very high temperatures in a sealed vessel, and about 95 percent of what goes into the gasifier comes out as the fuel gas." Craighead also said the remaining 5 percent to 10 percent of material exiting the gasifier is a high-carbon biochar that can be recycled or sold for agricultural or industrial uses.
PHGE President Tom Stanzione said the Lebanon project will deploy what his company believes is the world's largest downdraft gasifier and added, "This is the same basic technology we utilized in all our previous designs, and we have upgraded capacity and power density to accomplish a lot more gasification in what is not a lot more space."
The Large Frame gasifier, as the company refers to it, has been vetted through a rigorous testing process for more than two years at PHGE's research facility. A standard PHGE gasifier can convert up to 12 tons of feedstock per day to fuel gas, while the Lebanon model will process up to 64 tons per day without substantially increasing the footprint of the plant.
PHGE officials say the plant will keep more than 8,000 tons of material out of landfills each year – the equivalent of a line of trucks over 4 miles long, as well as cutting carbon dioxide emissions by 2,500 tons each year.
This project will mark the 14th gasifier installation for PHGE.