Florida Power & Light Company (FPL) will be powering the electric vehicles (EVs) racing for first place with solar power. The inaugural event will take place in downtown Miami on March 14, 2015. Formula E is a new FIA single-seater championship and the first fully-electric race car series. It kicked off in Bejing last September and ends this June featuring 10 teams, each with two drivers, racing on city streets. The racing series was developed to showcase R&D and excitement around EVs and the Miami ePrix marks the first U.S. appearance of the series.
"Our partnership with Formula E and the Miami ePrix is another example of our commitment to advancing zero-emissions solar energy and the use of electric vehicles in Florida," said Eric Silagy, president and CEO of FPL. "By the end of 2016 we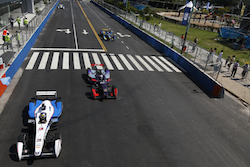 will triple the energy we are able to produce from the sun, furthering our mission to provide low-cost, reliable and clean energy to our 4.7 million customers."
"It's an honor for us to have been selected as one of the 10 founding Formula E teams for the inaugural season," said Michael Andretti, chairman and CEO of Andretti Sports Marketing who participated in the announcement. "I look forward to bringing this exciting series to North America and joining an impressive field of competitors at the upcoming race in Miami."
During the announcement, electric race cars were charged with power generated from the Martin Next Generation Solar Energy Center, one of three solar power plants operated by FPL. Earlier this year, FPL announced plans to install more than 1 million solar panels at three additional solar power plants by the end of 2016. When combined with other community projects, FPL will triple its solar capacity, which currently totals approximately 110 megawatts.
"The Formula E Miami ePrix is all about sharing our passion for electric vehicles," added Alejandro Agag, CEO of Formula E Holdings. "The race series is exciting, it's entertaining, and we hope it will turn the world's attention to the potential electric vehicles have to change the way we power transportation. We are pleased to partner with FPL – a company that shares our vision for powering the future with affordable, clean energy."