The 140 MW Oklaria 1 geothermal plant was recently commissioned in Naivasha, Kenya and Rwanda's President Paul Kagame was on hand for the event. He is advocating for more invest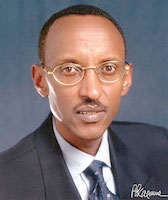 ment in renewable energy as Africa struggles with lack of electricity, and said this is a must for the country, and for Africa, to see an economic transformation.
"European countries are producing more electricity than Africa… what are they doing with their electricity that we can't do?" asked Kagame. "This project that has been opened to start producing electricity is important not only to Kenya, but to Rwanda and East Africa," Kagame said referring to the Oklaria 1 geothermal facility.
Kagame said it's time Africa began a debate to address energy challenges on the continent and suggested governments to engage the private sector. "The debate is about having sufficient electricity to power industry, school, homes and the whole economy as it should be… we need to have a conversation between government and business," he said.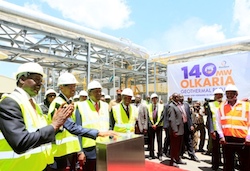 He stressed that this needs to be an open dialogue, not one entity dictating to another about what should happen.
Kenya's President Uhuru Kenyatta agrees with Kagame's call to action on reliable electricity as a foundation for economic growth and stability. "I am proud to be associated with President Kagame and others who have demonstrated willingness to the progress of our region."
Early this year, Rwanda signed an agreement with Kenya to import 30MW as part of adding up to 70MW to be connected to the national grid this year. Infrastructure Minister, James Musoni, said the electricity will be connected to the national grid by October 2015. Rwanda's current power generation capacity is 160MW. The country targets to have 563MW by 2018.