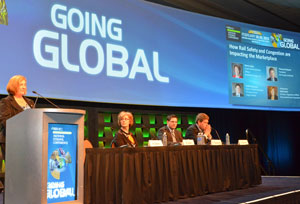 The last but certainly not least panel at the 2015 National Ethanol Conference dealt with the timely issue of rail transportation and how safety and congestion are impacting the marketplace.
Renewable Fuels Association Director of Regulatory Affairs Kelly Davis moderated the panel which featured Dana Lewis with Redfield Energy, Todd Tranausky with Argus Media, and Rail Supply Institute president Tom Simpson.
Davis told those gathered for the session that railroad are critical for the ethanol industry, moving 70 percent of all ethanol to its customers. It's also a safe way to ship the renewable fuel, with 99.94 percent arriving to their destinations safely. But if rail cars aren't available, there are consequences for the entire industry.
Lewis said her South Dakota-based company was one of those who felt those consequences of not having returning rail cars. That served as an unwelcome driver for Redfield, ultimately deciding how much ethanol they could produce because of the shipping issues, cutting into the company's income and not being able to sell ethanol ahead of time because they couldn't rely on being able to ship the green fuel. Adding insult to injury, many rail cars were siphoned off to the non-renewable petroleum industry in neighboring North Dakota. "Ethanol producers were further down the totem pole."
Tranausky said that ethanol seems to be treated as a second class citizen when compared to other commodities, including oil. Ethanol-loaded cars wait longer and are relegated to older tankers that might not hold the volume that would keep more ethanol in the supply chain. Simpson explained that the rail industry has issues of its own, with a backlog of freight cars equivalent to nearly 10 percent of the fleet and more awaiting safety re-certifications.
Listen to the entire panel session here: NEC15 Rail Transportation Panel