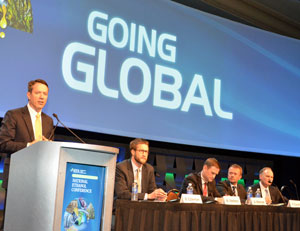 While it's making progress, there are still plenty of questions and concerns regarding advanced ethanol production. During the the 20th National Ethanol Conference, a panel of advanced ethanol producers talked about the challenges and opportunities facing their industry.
Advanced Ethanol Council Executive Director Brooke Coleman moderated the panel which included Bill Feehery of DuPont Industrial Biosciences (pictured at the podium), Adam Monroe of Novozymes, Paula Corollo with Beta Renewables, and Abengoa's Chris Standlee. Coleman said while there are naysayers, who try to talk down the cellulosic industry, saying it's not going fast enough or isn't successful enough, he sees incredible progress over the last five years for the industry. But it's not going to get easier.
"This is a crossroads and the part where it gets hard. This is the part where we diversify feedstock, introduce new technologies, and the [Environmental Protection Agency] has to look down and decide if we're going to change the fuel markets at a fundamental level or just change them to where the oil industry is comfortable," Coleman said.
Feehery's presentation focused on the progress cellulosic ethanol has made, calling the recent advancements that are delivering a cleaner, more sustainable transportation fuel that's also invigorating rural America's economy. "It's a victory of science, industry policy, and plain good, old-fashioned hard work, and it's an accomplishment we all share together."
Looking ahead, Feehery said it's also important to look back at what has been successful to see the path forward. He pointed to efficiencies and technologies, such as enzymes, that are making cellulosic more affordable and more commercially viable. He's also excited by how celluslosic ethanol is being embraced by American companies not just within the fuels markets, such as Procter & Gamble, which is using cellulosic ethanol in its formulation for Tide laundry detergent. He concluded that these technologies and adoptions by industry are key drivers in how cellulosic ethanol will grow in the years to come.
"What we see is the beginning of a bioeconomy in action," Feehery said.
Listen to Feehery's presentation before the group here: NEC 15 Advanced Ethanol Panel