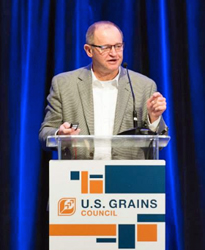 The U.S. Grains Council (USGC) held its winter meeting last week in Costa Rica where more than 250 delegates met to take a look back at last year and assess export opportunities.
Chairman Ron Gray says one of big issues of 2014 was with the ethanol co-product distillers grains (DDGS) and China. "At the end of the year, our exports were one of the highest years for DDGS on record," said Gray. "The Grains Council was instrumental in mitigating that process so that trade can continue."
Gray, who is a farmer from Illinois, believes it's important for producers to be involved in trade policy. "I think combines would be easier to fix than trade policy," he said. "We try to address the next problem so we can keep trade moving."
Gray says U.S. sorghum picked up some exports to China last year to pick up the slack caused by the biotech trait issue with corn, which allowed them to remain active in the market, but ultimately it's the growing demand for corn that is benefiting farmers back home.