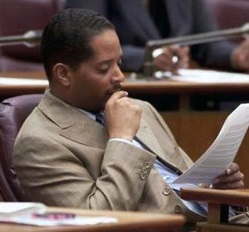 The announcement by Murphy USA to offer a 15 percent blend of ethanol, E15, at more locations in Chicago is prompting a city councilman calling for an ordinance to support renewable fuel efforts in the city. Alderman Anthony Beale has been working for some time now to get an E15 ordinance on the book.
"While I welcome E15 to our region, it pains me that due to our 7-month process of debate, Chicago retailers have not had the ability to offer E15 first and therefore to more ably compete with suburban sellers. This news, as welcome as it is, underscores the need to make sure the market is similarly open to retailers in the city, where Big Oil currently has the ability to block this choice of fuels from the market.
"As a national distributor and retailer, Murphy USA can offer whatever products they like. Chicago retailers, on the other hand, are at the mercy of the Big Oil companies, who as we have seen through the thousands of dollars they've spent on ads, will go to any lengths to keep drivers dependent on fossil fuel, whatever the consequences for the health of our air and residents.
"It's time to end the monopoly and stranglehold of the oil companies – who keep us dependent on foreign oil and give us high prices and petcoke in return. It's time – for the good of Chicago's air, for the good of Chicago's health, for the good of Chicago's beleaguered filling-station owners – to pass the Clean the Air with E15 ordinance."
Beale's ordinance has enjoys some pretty widespread support, including backers from the American Council on Renewable Energy, American Lung Association in Illinois, Chicago gas station owner Luke Casson, as well as several other biofuel, agribusiness and environmental groups.