The Central Florida Regional Transportation Authority (LYNX) has awarded Nopetro a contract to build and operate a compressed natural gas (CNG) fueling stations, provide improvements to its maintenance facility and convert the public but fleet to CNG. In addition to fueling LYNX's bus fleet, Nopetro's station will also be available to serve private commercial fleets and the public at large.
"Once again, LYNX is at the forefront of the nationwide movement to build sustainable public transportation systems," said John M. Lewis Jr., CEO of LYNX. "Switching to CNG makes sense both financially and environmentally for Central Florida transit, and Nopetro's collaboration made an easy choice even easier."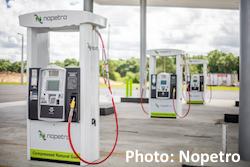 LYNX has estimated that converting their city buses from diesel to CNG will achieve a return of investment in three years. The fleets are expected to be converted by the second half of 2015. The plan is for LYNX to purchase and/or lease an initial 35 CNG buses and to have more than 150 CNG buses in their fleet within the next five years.
"This partnership will positively impact the 30 million riders who utilize LYNX public transportation services each year, as they travel throughout Orange, Seminole and Osceola counties," said Orange County Mayor Teresa Jacobs, Chair of the LYNX Board of Directors. "Converting our buses to run on CNG is part of our continuing efforts to improve operations through innovative technologies."
Nopetro cites converting to CNG offers more than financial savings to local government agencies. Experts note that switching to CNG cuts emissions drastically, including particulate matter by 89 percent, carbon monoxide by 70 percent, carbon dioxide by 25 percent and nitrous oxide by 80 percent.
Jorge Herrera, co-founder and CEO of Nopetro, concluded, "We are proud to work with LYNX and look forward to helping the agency continue to offer affordable public transportation services while creating a cleaner environment. The switch from diesel to CNG will spur significant savings and position LYNX ahead of the curve across the country."