PT Pertamina Geothermal Energy has awarded Alstom a €61 million contract to supply and install a 30 MW geothermal plant for the Karaha Power Plant in West Java, Indonesia. Alstom will design, supply, install and commission the entire power plant expected to be complete by the end of 2016.
According to Alstom, Indonesia houses the world's largest potential geothermal source which is estimated to be nearly 30,000 MW. However, recent figures indicated that Indonesia is not harnessing the potential of geothermal energy, with the source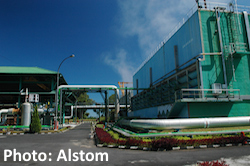 contributing only 5 percent of its estimated capacity into the power mix. The Indonesian Authority has been taking advantage of its natural assets and has committed to building several geothermal-related contracts in the past few years.
"We are delighted to play a key role in helping Indonesia achieve its energy goals," said Steven Moss, Vice President in charge of Renewable Steam Plants at Alstom. "This installation reinforces Alstom's continued commitment to the geothermal markets and the importance of this renewable fuel source."

Rony Gunawan, CEO of PT Pertamina Geothermal Energy added, "The competitiveness of Alstom's offer including quality, environment, health and safety, was key in the awarding of the contract. We are looking forward Alstom improving capability and effectiveness to manage the project."