The 550 MW Desert Sunlight Solar Farm, located in Desert Center, Riverside County, California has been commissioned. On hand for the "flipping of the switch" was U.S. Secretary of Interior Sally Jewell along with nearly 150 federal, state and local officials, and energy industry leaders. Project owners include NextEra Energy Resources, GE Energy Financial Services and Sumitomo Corporation of Americas.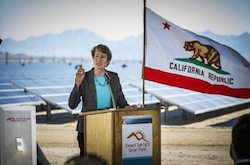 "Solar projects like Desert Sunlight are helping create American jobs, develop domestic renewable energy and cut carbon pollution," said Secretary Jewell. "I applaud the project proponents for their vision and entrepreneurial spirit to build this solar project, and commend Governor Brown for implementing policies that take action on climate change and help move our nation toward a renewable energy future."
The Desert Sunlight Solar Farm is located on approximately 3,600 acres of land managed by the U.S. Bureau of Land Management in Riverside County, and is capable of generating enough clean energy to power about 160,000 California homes. First Solar permitted, constructed and is now operating the plant, which uses over 8 million First Solar modules. The power generated is being provided to Pacific Gas & Electric Company and Southern California Edison both under long-term contracts.
"We wouldn't be here today without the hard work and cooperation of all our partners," added Armando Pimentel, president and chief executive officer of NextEra Energy Resources, the managing owner of the plant. "We are proud that Desert Sunlight will help California meet its renewable energy goals and has helped bring much needed jobs and economic benefits to families and businesses throughout Riverside County."