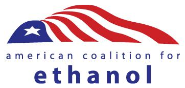 The American Coalition for Ethanol has elected its board officers for 2015:
* President – Ron Alverson, representing Dakota Ethanol, LLC
* Vice President – Duane Kristensen, representing Chief Ethanol Fuels Inc.
* Secretary – Dave Sovereign, representing Golden Grain Energy, LLC
* Treasurer – Owen Jones, representing Full Circle Ag Cooperative
Alverson is a corn and soybean farmer and was the founding chairman of Lake Area Corn Processors, LLC (Dakota Ethanol), a 60 mgy ethanol plant and South Dakota's first farmer-owned ethanol facility. He served on the Board of the National Corn Growers Association and is an agronomic expert who recently authored a White Paper entitled "Re-thinking the Carbon Reduction Value of Corn Ethanol."
Kristensen has nearly 30 years of experience in the ethanol industry and since 2004 has served as General Manager of Chief Ethanol Fuels Inc., a 62 mgy plant near Hastings, Nebraska, which is the state's first dry-mill ethanol production facility. He also serves on the U.S. Grains Council Ethanol "A-team" which develops export demand for U.S. ethanol.
Sovereign farms and is the founding chairman of Golden Grain Energy, LLC, a 120 mgy ethanol plant in Mason City, Iowa. He also owns Cresco Fast Stop, a convenience store that offers E15, E30 and E85. Sovereign was instrumental in developing the Biofuels Mobile Education Center, a 45-foot traveling trailer designed to educate the public about biofuels. He also serves on the board of Absolute Energy, a 115 mgy ethanol plant in Lyle, Minnesota.
Jones is a farmer, rancher, and cooperative business leader who was the driving force behind the installation of the first blender pump in the nation in 2006 at Four Seasons Cooperative (later renamed Full Circle Ag) in Britton, South Dakota.
ACE also elected South Dakota farmer and rancher Lars Herseth and East River Electric Cooperative representative Scott Parsley as two additional representatives to serve the ACE Executive Committee.