Greenlight Planet has raised $10 million in financing with the aid of Fidelity Growth Partners India and with the money the company has been able to provide solar energy products for off-grid homes in the developing world, in particular Sub-Saharan Africa and India. The company sells rooftop solar lighting and phone charging devices. GreenLight Planet says the devices will generate 55 million kilowatt-hours of energy, offset 1.5 million tons of CO2 and save their users over $340 million in fuel costs over their lifetime.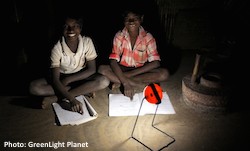 "As a result of this financing, we're building the world's largest rooftop solar consumer base in the developing world, and we're investing especially to expand distribution in Sub-Saharan Africa," said Anish Thakkar, Greenlight Planet CEO and co-founder.
According to reports published by the International Finance Coporation (IFC), over 600 million people in Sub-Saharan Africa live off the electric grid, spending $11 billion annually on kerosene, batteries and candles for light. GreenLight Planet expects to reach 100 million off-grid households by 2020.
"We see tremendous potential to provide affordable solar energy solutions for consumers in the developing world," explained Kabir Narang, Managing Director of Fidelity Growth Partners India. "Greenlight Planet has established itself as a product leader with a strong brand in the fast-growing off-grid energy segment. We are excited to partner with Greenlight Planet and its exceptional management team as the company embarks on its next phase of growth."  Following the closing of the financing, Kabir Narang has joined Greenlight Planet's Board of Directors.