The U.S. Department of Energy (DOE) has announced more than $59 million in funding to support solar energy acceleration. DOE is allocating $45 million in funding to quickly move
innovative solar manufacturing technologies to market, and is also awarding more than $14 million for 15 new projects to help communities develop multi-year solar deployment plans to install solar electricity in homes, businesses, and communities.
"As President Obama noted in his State of the Union address, the U.S. brings as much solar power online every three weeks as we did in all of 2008," said Energy Secretary Ernest Moniz. "As the price of solar continues to drop, the Energy Department is committed to supporting a robust domestic solar manufacturing sector that will help American business meet growing demand and help American families and businesses save money by making solar a cheaper and more accessible source of clean electricity."
The $45 million Technology to Market funding opportunity is part of the DOE's Clean Energy Manufacturing Initiative, aimed at boosting American competitiveness and supporting a strong domestic, clean energy manufacturing sector. This funding opportunity combines three historically separate SunShot Initiative funding programs—Incubator, Solar Manufacturing Technology, and Scaling Up Nascent PV at Home— into one that will support projects with the potential to significantly reduce the costs for solar energy systems across a variety of technology areas.
The 15 Solar Market Pathways projects pursue various approaches to developing actionable solar deployment plans and strategies to promote deployment at residential, community, and commercial scales—from expanding shared or community solar programs and local financing mechanisms to integrating solar energy generation into communities' emergency response plans. The awardees include not-for-profits, utilities, industry associations, universities, and state and local jurisdictions in California, Illinois, Minnesota, New York, Utah, Virginia, Vermont, Wisconsin and Washington, D.C.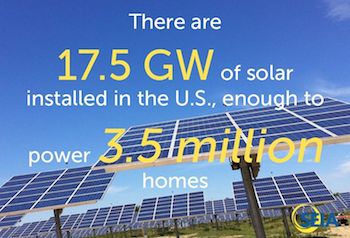 "We applaud President Obama and Secretary Moniz for their continued commitment to increasing the use of clean, reliable solar energy. Investing in new ways to quickly move innovative solar manufacturing technologies to market will only help build on the nearly 175,000 American jobs in solar today, and investing in cutting 'soft costs,' such as permitting and financing, will also help make the solar industry – coming off yet another record year – even stronger," said Rhone Resch, president and CEO of the Solar Energy Industries Association (SEIA).
Resch notes that today the U.S. has an estimated 20 GW of installed solar capacity with another 20 GW in the pipeline for 2015 and 2016. "This tremendous growth is due, in large part, to smart, effective public policies, such as the solar Investment Tax Credit (ITC), Net Energy Metering (NEM) and Renewable Portfolio Standards (RPS). By any measurement, these policies are paying huge dividends for both the economy and environment," Resch concluded.