A pilot-scale bioenergy facility that will use seawater irrigated desert land to produce both bioenergy and food in the water is under development in Masdar City. The Integrated Seawater Energy and Agriculture System (ISEAS) involves a complete seawater agricultural system that will serve as a research and development facility for Masdar Institute (MI) of Science and Technology and the Sustainable Bioenergy Research Consortium (SBRC). The project is expected to be operational in late summer.
Dr. Alejandro Ríos, Director, Sustainable Bioenergy Research Consortium, noted, "This project has potential for groundbreaking innovation, particularly considering the unique conditions in Abu Dhabi's environment. CH2M HILL has assembled a world-class team of engineers to tackle this very interesting challenge, and we at the Masdar Institute of Science and Technology are confident that the engineering expertise that has gone into the design of the pilot facility will enable such innovation."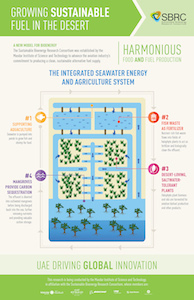 CH2M HILL was commissioned last year to provide technical support and to design a sophisticated pilot-scale facility of the ISEAS on designated land in Masdar City. CH2M HILL said they worked closely during the design phase with MI and SBRC to refine the technical aspects of the new facility, with the intention of an innovative sustainable system that will serve as a research and development facility for MI and SBRC.
A significant aspect of the new pilot-scale facility is the use of seawater to produce water stock to grow seafood, mainly fish and shrimp, (aquaculture) for human consumption and Salicornia plants for fuel and byproduct production. The plants thrive in arid, desert conditions and do not require fresh water or arable land to grow. The effluent is diverted into cultivated mangroves that are used for water treatment and biomass production, removing nutrients and providing valuable carbon storage.
"CH2M HILL is proud of our involvement with this notable pilot research project and of our successful partnership with MI and the SBRC. The project team has not only created an innovative biofuel project to address challenges of energy and water security, but is also playing an essential role in supporting the advancement of sustainable biofuel research in the UAE," said Neil Reynolds, CH2M HILL's regional managing irector for Middle East, North Africa and India (MENAI).