A new lab book, Investigating Wind Energy is now available for students in grades 4-6. Vernier Software & Technology spearheaded the effort. The book was written for and aligned with the Next Generation Science Standards (NGSS). The lesson plans encourage students to apply learned knowledge as they explore electric circuits and investigate blade design variables using a variety of materials and technologies using a variety of materials and technologies, including the KidWIND MINI Wind Turbine, the Vernier Energy Sensor, and more.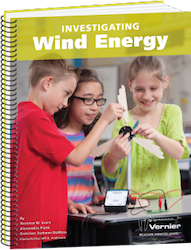 "Our new lab book provides students with multiple hands-on investigations that explore renewable energy science, as recommended by NGSS," said David Vernier, co-founder of Vernier and former physics teacher. "These types of inquiry-based investigations engage students in scientific discovery at an earlier age and provide the foundation needed as they progress through STEM instruction."
The lab book includes ten investigations and one culminating project where students design, test, and refine a wind turbine blade set that converts wind energy to electrical energy. The investigations are designed to help students explore quantitative current, potential difference, power, energy and more in an engaging, hands-on way.
The lab book includes a table showing the Disciplinary Core Ideas, Crosscutting Concepts, and Science and Engineering Practices covered in each investigation, making it easy to use with the EQuIP rubric from Achieve. Additionally, it includes information on related skills, estimated completion times for the investigations, equipment tips, teaching tips, answers, sample data, and graphs in the teacher information pages. An accompanying CD with editable Word files for all of the student pages allows teachers to adjust lessons to meet their needs.