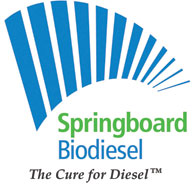 Biodiesel equipment manufacturer Springboard Biodiesel has hit a bit of a milestone. The company says the Putnam County School system of Georgia will be the 75th school to own and operate a BioPro™ biodiesel processor.
"Putnam is doing what any school with dining facilities on campus can do," reports Springboard Biodiesel CEO Mark Roberts. "Converting used cooking oil into locally made fuel for less than a dollar per gallon saves money on fuel costs, significantly reduces a school's carbon footprint and makes students smarter."
Springboard offers financing through several third party lenders thereby enabling any accredited US educational institution to get started quickly with a program that compliments many existing recycling programs.
Some of Springboard Biodiesel's other customers for its small-scale biodiesel processing systems include Toyota, Honda, The Florida National Guard, The Petroleum Corporation of Jamaica, Jimmy Dean Sausages, many restaurants and schools, and the Federal Prison system.