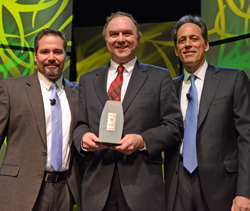 There are many in the biodiesel industry who serve as inspirations, but maybe none as much as Greg Anderson with the Nebraska Soybean Board. The soybean farmer has been a long-time biodiesel advocate and has shown his full-time devotion to his fellow soybean farmers and the biodiesel industry in so many ways. Even after suffering a near-fatal accident involving a propane tank explosion on the family farm back in Nebraska this past August, he remained positive, grateful, and upbeat during his recovery from the painful injuries. And during the National Biodiesel Conference & Expo, he reminded the group gathered for the Eye on Biodiesel Awards, of which he is the Inspiration winner, of just how safe biodiesel is.
"Biodiesel is the safest of all fuels to handle, transport and store. I'll be towing biodiesel from now on," he said with an inspirational smile and applause from the crowd.
Greg said while his recovery was painful, he was helped by all the support of so many people. He found himself thankful for not only his life but a full recovery. He likens his recovery to the recovery the biodiesel industry is having to face now. He also reminded the group not to forget what's important in life.
"At the end of the day, it's not about what we accomplished or the material possessions that we have. But it's truly about making others better, inspiring others, really giving back. And I've been blessed so much by you all."
Listen to Greg's inspiring remarks here: Greg Anderson