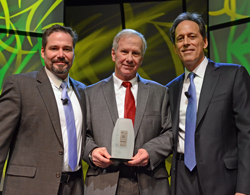 It's many of the innovations that have helped grow biodiesel from what could be considered just a cottage industry not that long ago to the major fuel it is today. During the recent National Biodiesel Conference & Expo, Tom Butcher from Brookhaven National Laboratory was recognized for his contributions to the industry. He told the group that as a researcher, he has worked on a lot of different energy technologies and was impressed with biodiesel's impact.
"The impact that it's had on the Northeast, the impact on the heating oil industry across the country. This is an industry that because of biodiesel has been rejuvenated," he said.
Tom played an instrumental role in the technical research that has been done over the last six years that formed the basis for the balloting of performance specifications for 6 percent to 20 percent biodiesel blended into traditional heating oil as a new fuel grade in the ASTM D396 fuel oil standard. His groundbreaking work documenting the positive field experience with biodiesel blends and providing the research background were major factors in addressing questions brought up by the NORA/NBB-lead Bioheat Technical Steering Committee.
He concluded saying he was lucky to be part of this group and is looking forward to the innovations of the future.
Listen to Tom's remarks here: Tom Butcher