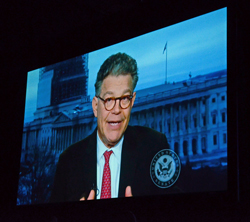 A long-time advocate for biodiesel was honored during the recent National Biodiesel Conference & Expo. Sen. Al Franken from Minnesota was honored with the the 2015 "Eye on Biodiesel" Impact award for his work for biodiesel in Washington, taking a particular leadership role last year in challenging the EPA's initial proposal that would have weakened Renewable Fuel Standard (RFS) volumes.
Sen. Franken has helped organize his Senate colleagues in holding meetings on the issue with senior Administration leaders. He has coordinated advocacy letters from members of Congress. And he has spoken out publicly to highlight biodiesel's benefits in Minnesota and across the country as he fought for a strong RFS. Additionally, Sen. Franken has been a consistent and vocal advocate for the biodiesel tax incentive. His advocacy and leadership have been instrumental in helping to develop a policy environment in which biodiesel can continue to grow.
In recorded remarks played for the crowd gathered at the conference, Franken thanked the group for the honor and reiterated his opposition to the Obama Administration's proposal to cut biodiesel requirement under the RFS to 1.3 billion gallons annually.
"Our annual biodiesel production meets and even exceeds the expectations set in the [RFS]. Last year, you produced 1.8 billion gallons – each one of those gallons is helping improve our energy security and creating good jobs here at home," said Franken, pointing out that he's talked with anyone who would listen in the administration, including President Obama, telling them all how opposed he was to the proposal. "We need a strong RFS, not a weak one."
Franken vows to keep fighting for the biodiesel industry, also working to reinstate the federal biodiesel tax credit.
"It doesn't make sense for taxpayers to spend billions of dollars each year subsidizing Big Oil, while letting investments in clean, homegrown energy, like biodiesel, lapse."
Listen to Franken's remarks here: Sen. Al Franken speaks to biodiesel conference by video