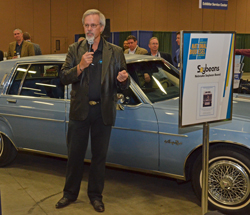 A Nebraska farmer who proudly admits he bleeds John Deere green also admits a pretty high affection for the green fuel, biodiesel. Greg Greving, who farms in Central Nebraska and is a board member of the Nebraska Soybean Board, told attendees of the National Biodiesel Conference & Expo that biodiesel is what powers his equipment.
"This fall, my two boys, two hired men and myself, harvested 11,000 acres in 56 days [all running on biodiesel], and the only time we shut down was when we were tired," he said. "We have not had any trouble running biodiesel."
But Greg was doing more than just bragging about his Deere equipment and biodiesel. He was invited to the showcase to show off his 1980 Oldsmobile 98 Regency with a 5.7 GM diesel engine, in which he also uses biodiesel. Whether it's his car or the farm equipment he runs, fuel quality is of the utmost importance. That's important to hear, as the National Biodiesel Board announced its new BQ-9000 Retailer Program to make sure consumers get the appropriate industry specifications when it finally goes into their fuel tanks.
You can hear to Greg's remarks here: Greg Greving, Nebraska Soybean Board at Vehicle Showcase