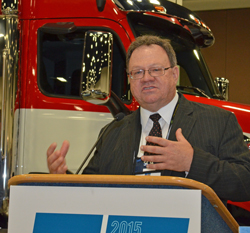 One of the highlights of this year's National Biodiesel Conference & Expo, as it is every year, was the Biodiesel Vehicle Showcase Event, where vehicle makers gave us a sneak peek at what's coming from them that runs on biodiesel. Steve Howell, the National Biodiesel Board's (NBB) senior technical advisor, said when the industry started more than 20 years ago, they had a very modest goal of producing 30 million gallons of biodiesel nationwide annually. Now, an average plant cranks out that much each. He credits working with partners in the automaking industry for the increase.
"We've done the work necessary to answer the questions that they have about biodiesel in the engines of vehicles," he said. "Because if we answer their questions, we know we've answered customers' questions."
Steve said that close, working relationship is highlighted by the biodiesel industry's constant outreach to the vehicle makers and the fuel industry to ask what can biodiesel do for them next, such as oxidation stability and metals content. "So that these new technology diesel engines that have better fuel economy and cleaner emissions work with biodiesel blends."
He thanked the partners participating in not only this showcase, but the biodiesel industry, including John Deere, Ford, Volkswagen, Hino Trucks, General Motors, Peterbilt, and the Diesel Technology Forum, as well as funding they've received from the U.S. Department of Agriculture, United Soybean Board and state soybean boards.
"We're doing efforts to educate engine companies, to educate dealers, and all that's possible through that funding and the work done by NBB so we can all enjoy the benefits of biodiesel in our vehicles."
You can hear to Steve's remarks here: Steve Howell at Vehicle Showcase