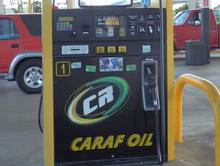 Caraf Oil in North Miami this week became the first retail fuel station in South Florida to offer 15% ethanol blended gasoline.
"We wanted to be the first in South Florida to offer E15 since we have had success with customers with E85," said Edwin Flores, owner of Caraf Oil, who says they actually offer E85 at two locations in North Miami. "For drivers, it's seamless – you can use E15 or gas if you're driving a 2001 or newer model."
The grand opening celebration for the new E15 pump on Wednesday featured officials from both Caraf Oil and Florida-based ProtecFuel, which managed the pump installation, as well as local dignitaries and representatives from Southeast Florida Clean Cities.
"We are excited to help introduce American-made ethanol into the fuel pool through E15 in our home state and city," said Todd Garner, CEO of Protec. "With its higher performance at 88-octane, and environmental benefits, it just makes sense."
"Clean Cities is all about reducing our country's dependence on foreign oil and we're proud that our region is one of the first in Florida to offer E15," said Christine Heshmati, Southeast Florida Clean Cities Coordinator.
Currently, E15 is available at more than 100 stations across the nation in 15 states: Alabama, Arkansas, Florida, Illinois, Iowa, Kansas, Michigan, Minnesota, Missouri, North Carolina, North Dakota, Nebraska, Ohio, South Dakota and Wisconsin.