Outpacing the growth of the U.S. economy as a whole by 20 percent, the solar industry added another 31,000 jobs in 2014. The Solar Foundation (TSF) released the Solar Census Report late last week and found that total employment in the solar sector is 173,807 workers. Key findings included:
Over the next 12 months, employers surveyed expect to see total employment in the solar industry increase by 20.9% to 210,060 solar workers.
One out of every 78 new jobs created in the U.S. since Census 2013 was created by the solar industry – representing 1.3% of all new jobs.
Of the 173,807 solar workers in the United States, approximately 157,500 are 100% dedicated to solar activities.
Wages paid to solar workers remain competitive with similar industries and provide many living-wage opportunities.
The installation sector remains the single largest source of domestic employment growth, more than doubling in size since 2010.
Solar workers are increasingly diverse. Demographic groups such as Latino/Hispanic, Asian/Pacific Islander, and African American, along with women and veterans of the U.S. Armed Forces now represent a larger percentage of the solar workforce than was observed in Census 2013.
"Solar energy is becoming an increasingly important part of America's future – and this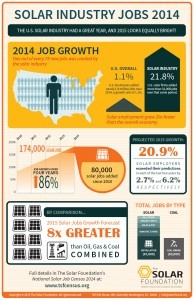 new report offers additional proof of that," said Rhone Resch, president and CEO of the Solar Energy Industries Association (SEIA). "Not only is solar helping to power more and more homes, businesses, schools and government buildings, but it's also helping to power the U.S. economy in a very significant way – and, frankly, we're just scratching the surface of our enormous potential.
Resch noted that the growth is due, in part, to smart and effective public policies, such as the Solar Investment Tax Credit (ITC), Net Energy Metering (NEM) and Renewable Portfolio Standards (RPS). He added that the policies are paying huge dividends for the economy and the environment.
"Today, the U.S. has an estimated 20.2 gigawatts (GW) of installed solar capacity, enough to effectively power nearly 4 million homes in the United States – or every single home in a state the size of Massachusetts or New Jersey – with another 20 GW in the pipeline for 2015 and 2016," continued Resch. "This is going to help to create even more new jobs. What's more, solar helped to offset an estimated 20 million metric tons of harmful CO2 emissions in 2014—the equivalent of taking 4 million cars off U.S. highways or saving 2.1 billion gallons of gasoline. We applaud The Solar Foundation for its hard work in putting together this comprehensive report, which helps to highlight the growing importance of solar energy to America and our future."