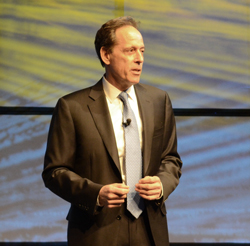 Steven Levy, Chair for the National Biodiesel Board took the stage this morning to provide an inspiring message to members who have been facing some serious odds in the last couple years. But he told everyone about how important it is to keep trying in order to obtain success using a quote from Thomas Edison.

Across the biodiesel industry, we're not just trying to accomplish something – we are delivering. Part of the impetus for our success is the strength of our combined expertise and collaboration.
Ultimately, Edison didn't succeed alone. He pioneered the concept of a collaborative lab, drawing on the knowledge and talent of a diverse group of creative scientists and engineers.
Likewise, NBB taps the technical expertise and business acumen of our members – and merges that powerful talent base with the specialized skills and knowledge of our leaders, our staff, and our consulting experts.
Working together, we are far more effective, far more formidable, and far more unstoppable in our mission.

You can listen to Steven's remarks here: NBB Chair Steven Levy Remarks