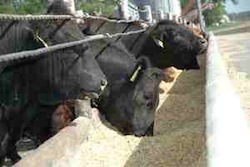 Biodiesel made from animal fat produces 85 percent fewer greenhouse gas emissions. This news release from the European Fat Processors and Renderers Association says new finding from the Institute for Energy and Environmental Research (IFEU) in Germany confirm a long-held belief that animal fat biodiesel would have significant positive effects on the environment.
The latest calculations carried out in the context of the ISCC sustainability certification process reveal that producing biodiesel from animal fat achieves a remarkable 85% saving in greenhouse gas emissions compared to fossil diesel fuel…
Public health restrictions mean that animal by-products are subject to special disposal regulations and as a consequence have a negative market value. Therefore, according to the IFEU, all emissions relating to treatment necessary for compliance with public health requirements in sterilised preliminary products should not count towards the total amount of greenhouse gas emissions generated during production of the associated biofuel.
Niels Leth Nielsen, EFPRA president, commented: "Biodiesel made from animal fat not only conserves resources, it also achieves very high savings in terms of greenhouse gas emissions. That means we already have access to an advanced biofuel."