Investing in a 5 kilowatt solar system may be a better investment than investing in a stock market index fund according to a new report, "Going Solar in America: A Guide for Homeowners Considering Solar PV in America's 50 Largest Cities," released by the NC Clean Energy Technology Center. The U.S. Department of Energy (DOE)-funded study finds that solar is a "real opportunity for anyone looking to take greater control over their monthly utility bills and make a long-term, relatively low-risk investment."
The first Going Solar in America report ranked America's 50 largest cities by the financial value rooftop solar offers residential customers. According to the authors' calculations, a financed solar PV system can be a better investment than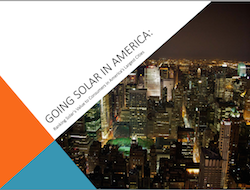 the S&P 500 in 46 of the 50 cities. The report fins that many homeowners are unaware of solar PV's value because they don't have a personal point of reference of understanding how much it will cost them.
The second report provides actionable information to homeowners as a follow-up to these rankings. The guide includes descriptions of the policy and incentive options available to homeowners considering solar and information on how to get started. Among topics addressed are solar PV technology, financing options (loans, leases and power purchase agreements), and net metering and "value of solar" tariffs.
"We wanted to first draw attention to the financial value that solar offers today and then have a resource available to assist homeowners who are interested in taking the next step," said Autumn Proudlove, co-author of the Going Solar in America reports.
Jim Kennerly, lead author and project manager of the Going solar reports notes that the upfront costs of a typical size solar PV system, not factoring into tax credits and other financing options, is about the same as the upfront cost of buying a 2015 Toyota Corolla. "Given that a car's upfront cost does not include ongoing gas and maintenance costs, it really shows that going solar right now is a great financial value, no matter who you are, or where you live."